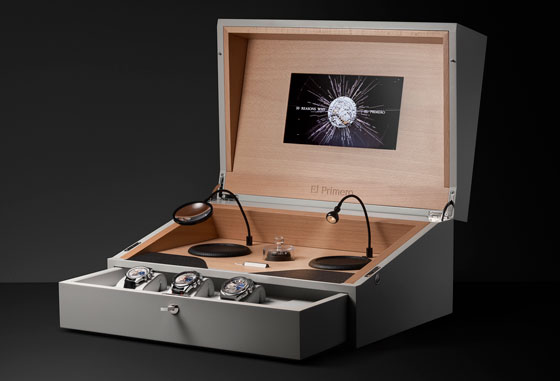 This year, the iconic high-frequency timepiece El Primero celebrates half a century of avant-garde and precision.
In tribute to its legendary destiny, Zenith orchestrates a series of 12 events in the form of a dinner held in 12 cities around the globe. Celebrated in Milan, the first evening marked the beginning of the festivities.

To highlight the unique destiny of El Primero – the world's first integrated and most accurate automatic chronograph – Zenith invites observers on a journey through time. The Maison is treating aficionados to a 50-piece anniversary box set containing three models that retrace the technical and aesthetic evolution of this precision legend: a faithful reissue of the first El Primero model from 1969, a Chronomaster El Primero with optimised movement, as well as a Defy El Primero 21 accurate to 1/100th of a second. This collector trio with "signature" counters lends itself to all kinds of desires: vintage, classic or modern. A fourth cushion, still empty, is ready to welcome the next achievement of Zenith in the universe of extreme high frequency: 1/1000th of a second!

Incorporating a touch screen, the satin-brushed grey cover of the case is adorned with the anniversary logo and opens to reveal a reproduction of a miniature watchmaker's bench, complete with a watch mechanism placed on a support, as well as an adjustable lighting system, magnifying glass and screwdriver. Secured by a key, the lower part of the case contains a drawer in which the three chrono-graphs are nestled.
March 28, 2019