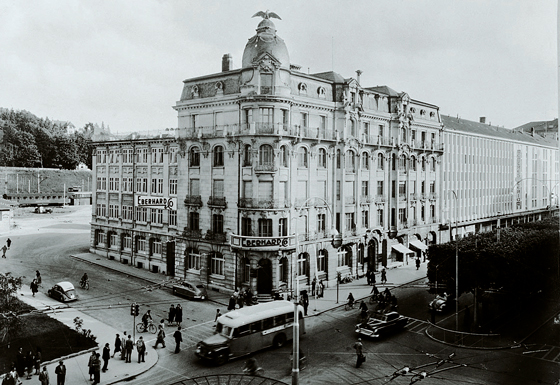 It was the year 1887 when Georges-Lucien Eberhard, a young watchmaker with great ambitions, opened his first workshop in La Chaux-de-Fonds, which was already, just as it is today, the heart of Swiss watchmaking.
Passion, intuition and determination were the qualities which allowed him, in a very short time, to create one of the country's major manufactures and to build one of the most stunning palaces in the city to house it, worthy of the name which was contributing to shape the history of the watch industry.

It has been a long time since, but the generations of entrepreneurs who have successively taken up leadership of Eberhard & Co. have remained faithful to the example of Georges-Lucien, allowing the name Eberhard to grow internationally, thanks in no small part to several inventions which represent a series of genuine milestones in watchmaking.

Barbara Monti, the company's current CEO, wanted this year to achieve one of the main goals that she had set herself when she took over the reins of Eberhard: to return the company to the historic premises built by its founder, the Maison de l'Aigle. Everyone in La Chaux-de-Fonds knows the building, which covers the large part of a block on Avenue Léopold-Robert, not only because of its grandeur and the fact that it is among the city's industrial buildings listed by UNESCO as a world heritage site, but also thanks to the eagle placed by Georges-Lucien on top of its dome, its outstretched wings symbolizing the strong will to fly towards new conquests.

There have indeed been many achievements in those 131 years of history. It is impossible to mention them all, but suffice to say that Eberhard created its first wrist chronograph in 1919, the forerunner of countless collections of timepieces, most often of a sporting nature, always technically innovative, often revolutionary such as the Chrono 4, the first chronograph equipped with four aligned counters, which made history at the time of its launch and, still today, remains one of a kind.

This great consistency, combined with an untamed spirit of independence, is the key to understanding today's move. This is not merely a change of headquarters, but the expression of Eberhard's determination to enter a new phase and strengthen its principles of respect for both tradition and the spirit of innovation, while, at the same time, cementing the heritage of the brand.

As a statement for this comeback, the historic eagle will be restored, putting right the effects of more than a century of weather: Eberhard & Co. will contribute to return one of the city's true icons to its citizens in all its splendour, celebrating a strongly desired and meaningful comeback.
November 08, 2018