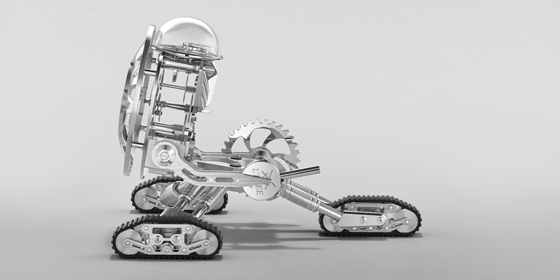 MB&F and L'Epée 1839 present Grant, a triple-tracked, Mad-Max-cross-Transformer robot clock on a mission.
Grant has a time display on his shield and a mission to slow things down when time runs too fast. There are no incessantly flashing digital numerals on Grant's shield, no constantly spinning second hand. Grant transforms frantic chaos into relaxing hours and minutes, and that's all the time you really need.

While Grant's time moves relatively slowly, he can travel quickly over rough terrain (or the messiest desk) on his three operational rubber tracks. Grant can also transform into one of three different modes: lying horizontally over his chassis for a low profile; crouching at 45 degrees; and sitting up 90 degrees. Grant's time shield can always be set to a comfortable and optimal viewing angle.

Grant's 8-day, in-line manufacture movement features the same superlative fine finishing as found on the finest wristwatches: Geneva waves, anglage, polishing, sandblasting, plus circular and vertical satin finishing. Hand finishing a clock movement is significantly more challenging than that of a wristwatch due to the larger surface areas of the clock components.

Grant is available in three limited editions of 50 pieces each in Nickel, Black, and Blue.
November 01, 2018