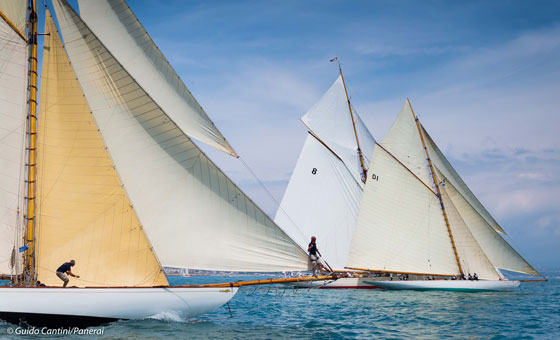 The 23rd edition of Les Voiles d'Antibes, the season-opening event of the Panerai Classic Yachts Challenge, ended on a high note.
The four timepieces unveiled to mark the watchmaker's 14th successive annual participation were won by Mariska (Big Boats), Eva (Vintage), Resolute Salmon (Classic) and Tabasco 5 (Spirit of Tradition). The four racing days took place in bright sunshine accompanied by a light breeze.
Organised each year around the first week of June, Les Voiles d'Antibes welcomes a selection of the finest Vintage yachts (built before 1950), Classic yachts (built before 1976) and Spirit of Tradition yachts; as well as size-based classes (6 MJI, 8 MJI and 12 MJI boats having competed in the America's Cup between 1958 and 1987) that have forged the history of international yachting since the late 19th century.
The Panerai Classic Yachts Challenge continued in Italy with the Argentario Sailing Week, which took place from June 13th to 17th in Tuscan waters off Porto Santo Stefano.
July 06, 2018