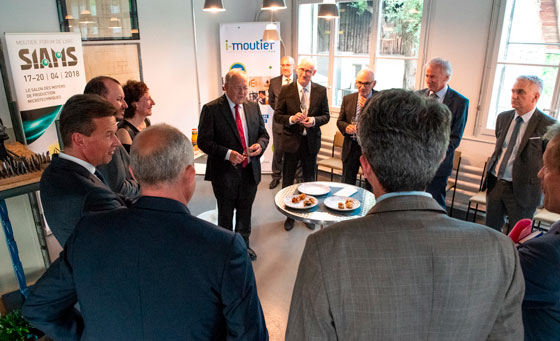 At the SIAMS inauguration, the organisers had announced with great regret that Federal Councillor Johann N. Schneider-Ammann was unable to participate due to illness.
Just before the official part of the ceremony, a meeting with industrialists from the Jura Arc region had been scheduled to enable a free-spirited exchange within a pleasant atmosphere, and this had also been cancelled.

Keenly aware of the importance of discussions with company management and of remaining attuned to the concerns of microtechnical industry executives from the region, Schneider-Ammann requested a "catch-up session". The latter was organised by FAJI, which is in charge of the SIAMS, and held on May 24th in Moutier, in the Tornos "Les Deux Tours" restaurant. A dozen company directors representing a range of microtechnical fields attended.

Despite a tight timeframe with the federal councillor, a number of themes were covered, including digitalisation and its impact on research and education, including continuous learning for employees which is extremely important in the context of industry 4.0, as well as training youthful talents. Schneider-Ammann also presented the services of Innosuisse, the federal institution devoted to providing personalised encouragement for start-ups and company set-up projects. Another instrument devoted to start-ups, the privately funded Swiss Entrepreneurs Foundation created several months ago, aims to help new companies in their industrialisation phase and avoid the brain drain abroad, such as to California.
June 07, 2018