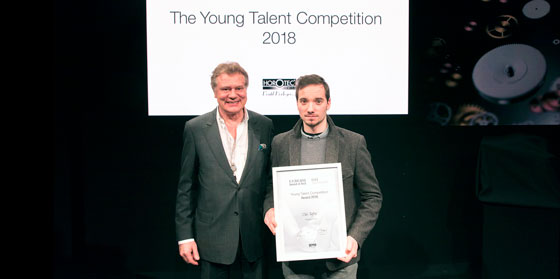 François-Paul Journe and Théo Auffret
Since 2015, the Young Talent Competition provides a chance to turn the spotlight on particularly talented watchmaking apprentices. Jointly organised this year by F.P. Journe and the Fondation de la Haute Horlogerie (FHH), this competition was open to 47 international schools from 14 countries.
Candidates entitled to take part had to be watchmaking apprentices or have completed their apprenticeship since August 31st 2016, as well as having independently created a watch, clock or technical construction, and submitting a full presentation dossier.

On January 17th 2018 at the Salon International de la Haute Horlogerie (SIHH), the watch brand awarded the prize for the third year running to the winners designated by the jury. The latter was composed of Philippe Dufour, Giulio Papi, Andreas Strehler, Marc Jenni, Pascal Ravessoud, Michael Tay, Elizabeth Doerr and François-Paul Journe, CEO of the Geneva-based brand. Their selection criteria were based on technical prowess, complexity of execution as well as the sense of design and aesthetics. This year's winners were Charles Routhier for his Halley creation, Rémy Cools for the Mechanica Tempus Pendulette Tourbillon and Théo Auffrey for the Tourbillon à Paris.

All three received a diploma and a gift cheque from Horotec enabling them to purchase watchmaking tools. In addition, their creations were exhibited at the SIHH. The FHH also offers them free access to the FHH Certification program (the only globally recognised watch knowledge certification), as well as to a course devoted to watchmaking history.
February 01, 2018