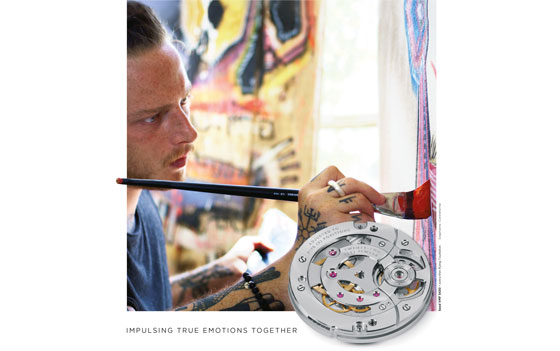 To escape the usual communication patterns, Vaucher Manufacture Fleurier (VMF) has launched a new creative concept: a video in which, through the portrayal of several different situations, time stands still, apparently suspended, breath is held and eyes are closed.
It is the movement that provides the impetus, that triggers what happens next, just as the VMF movement regulates the measurement of time.

Through this original approach to communication, the Manufacture set itself the challenge of engaging the public regarding what makes the heart of a watch beat: the calibre. Because behind the universe of watch brands lie the talents and unique expertise that bring each timepiece to life.

A major player in the watchmaking sector, VMF nonetheless remains a Maison that is little-known to the public. Proud of its expertise and movements, it has decided to take part in an unusual advertising campaign in the world of watchmaking subcontracting, namely engaging the public on the very essence of a watch.

Each day, time stops in its tracks for an instant before exploding in a highly emotional moment. It is at precisely this point, the moment that time appears to be suspended, that is described in the film.

A succession of short seconds in which time stops before restarting and continuing with its natural progression.
The story takes place on the parvis of Lausanne Cathedral, the shores of the Lac Noir (Black Lake) and the stage of the Théâtre de l'Heure Bleue. The characters, whose passion contributes to the authenticity of the moment, play their own roles.

Through this promotional film developed in collaboration with the Virtua agency, the watchmaking Manufacture wishes to share with the public another perspective on the watchmaking object and to highlight that which truly endows a watch with its value: the universal measurement of time which takes place within it.
January 11, 2018