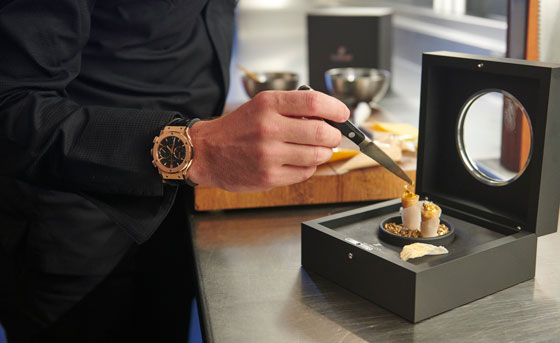 A staunch fan of refinement in all its forms, brand CEO Ricardo Guadelupe celebrated the art of fusion together with well-known chef, Andreas Caminada on December 1st.
During this event held in the prestigious Château Schauenstein, the chef – awarded three Michelin stars by the age of 33 – offered guests a particularly impressive gourmet show. An explosion of colours, subtle play on "sweet and sour" flavours, crispy and moist as well as hot and cold temperatures delighted guests' palates. The latter also smiled for the camera wearing a watch by the Nyon-based Maison.

A member of the Hublot family since March 2016, the chef produces dishes that are both authentic and innovative. He follows his instincts, playing on both textures and senses, without ever changing the original taste of the ingredients he uses. While faithfully preserving the spirit of his profession, he unfailingly demonstrates a particularly explosive brand of creativity.
January 11, 2018