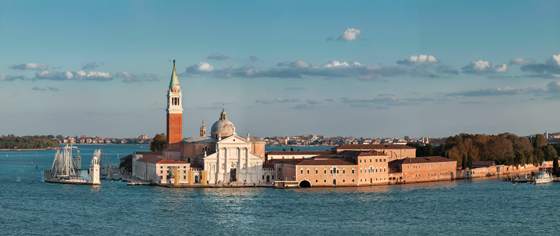 The Michelangelo Foundation will present a major international cultural exhibition in Venice next year, dedicated to European artisanship and intended to promote artistic crafts.
Devoted to promoting artistic crafts on an international scale, the Michelangelo Foundation for Creativity and Craftsmanship will present a major cultural exhibition – named Homo Faber and dedicated to the quintessence of European artisanship – in September 2018 at the Giorgi Cini Foundation in Venice.
Created by a hand-picked team of world-class designers, curators and architects, Homo Faber aims to put the finest artisans of Europe on centre stage while providing a unique and memorable experience for visitors. The Homo Faber team, which includes names such as Michele de Lucchi, Stefano Boeri, India Mahdavi, Judith Clark, Jean Blanchaert and Stefano Micelli, has come together to imbue the exhibit with untold imagination and energy. Also collaborating with the Michelangelo Foundation on this undertaking are partner organizations that share its vision including: the Fondation Bettencourt Schueller, the Triennale Design Museum, and the Cologni Foundation for the Métiers d'Art.
A huge range of materials and disciplines will be represented, from jewellery to bespoke bicycles, from skills on the brink of being lost to some of the most sought after icons associated with European style.
Homo Faber is fuelled by an ardent belief in the power and value of real human engagement. As such, the exhibition is intended as an immersive experience – visitors will be able to speak to artisans, virtually enter the ateliers of the masters, observe conservators at work and truly immerse themselves in the world of fine craftsmanship, a world that relies on connection: connecting the hand, head and heart to create authentic works of lasting value.
"We chose Venice for this exhibition not only because it is a bastion of culture and a place of unequalled beauty," Franco Cologni, Co-founder of the Michelangelo Foundation explains, "but also because Venice is today and has always been a European hub for exchange and connection internationally." Scheduled to overlap with Venice's acclaimed Biennale of Architecture, Homo Faber will be an important complementary offering for the world's tastemakers and influencers.
"Homo Faber is an expression that was first coined during the Renaissance and it captures and celebrates the infinite creativity of human beings," Johann Rupert, Co-founder of the Michelangelo Foundation, says. "The exhibit will provide a panoramic view of European fine craftsmanship but it will nevertheless have a singular undercurrent: what human beings can do better than machines."

As visitors make their way through Homo Faber they will encounter new works, see artisans creating in real time and have the opportunity to immerse themselves in the vision of some of Europe's most celebrated designers, architects and curators. A number of distinct environments will come together to create the Homo Faber experience, each one conceived for a specific space within the Fondazione Giorgio Cini, in Venice.
Michelangelo Foundation
The Michelangelo Foundation for Creativity and Craftsmanship is an international, non-profit institution based in Geneva, Switzerland, which celebrates and preserves master craftsmanship and strengthens its connection to the world of design. Rooted in a tradition of culture and excellence and in the realities and challenges of today's global economy, the Foundation seeks to support men and women who dedicate themselves to the pursuit of master craftsmanship and to foster a new cultural movement built around the values that are essential for their work. The Foundation focuses on Europe as a starting point for its activities, in recognition that craftsmanship has been a vital part of the economic and cultural fabric of the region for centuries, providing both a rich heritage and a competitive advantage in a global world.

Fondazione Giorgio Cini
The Fondazione Giorgo Cini is a non-profit cultural institution based in Venice, in Italy. It was established by Vittorio Cini, where the exhibition Homo Faber will take place from September 14th to 30th 2018, in memory of his son Giorgio, with the aim of restoring the Island of San Giorgio Maggiore and of creating an international cultural centre that would re-integrate the Island into the life of Venice.
Beyond its architecturally and historically significant buildings, which bear testament to the lasting value of the work of skilled artisans, the Foundation's long history of supporting local craftsmanship make it the perfect venue for Homo Faber. The Arts and Trades Centre, which was created during the establishment of the Fondazione, originally provided training in wooden boat building as well as traditional artisanal work. Today, there are "Le Stanze del Vetro" which host two exhibitions of glass art a year. The Fondazione Giorgio Cini continues in its mission to promote the redevelopment of the monumental complex on the Island of San Giorgio Maggiore and encourage the creation and development of educational, social, cultural and artistic institutions in its surrounding territory.
December 21, 2017